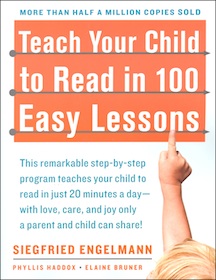 TEACH YOUR CHILD TO READ IN 100 EASY LESSONS
A Research-based Reading Program for Home Use
TRAINING VIDEOS for Teaching Reading to GROUPS
READING MASTERY I and FAST CYCLE I
Fast Cycle I was modified and expanded for use as a tutorial as
Teach Your Child to Read in 100 Easy Lessons
This vintage video series (segments #1-#10) begins with an introduction, then how to organize and manage group instruction, and continues with rationale and intensive, detailed training in critical techniques for teaching GROUPS.  Participants are led through and then practice techniques with Dr. Haddox. Periodically throughout training, teaching demonstrations with groups of students are shown. Although the Reading Mastery Classic Editionis seen in the training videos, the same teaching strategies are used in the recent editions and when teaching small GROUPS with TEACH YOUR CHILD TO READ IN 100 EASY LESSONS. As indicated in the Video Segments Contentsbelow, training in teaching GROUPS starts in segment #3. Lesson numbers are indicated for the READING MASTERY(RM) program and also for lessons which have the equivalent skills in TEACH YOUR CHILD TO READ IN 100 EASY LESSONS(TYC).
https://www.nifdi.org/videos/reading-mastery-i-ii-iii.html
Video Segments Contents:
#1 – Introduction: ORIENTATION for school personnel, parents and community members. Dr. Phyllis Haddox starts the presentation and Siegfried Engelmann, Senior Author, discusses the philosophy, goals, rationale, and techniques of Direct Instruction. He is also shown teaching a group of children.
#2– Getting Started– Materials, Sounds, Blending, Placement, Grouping, Scheduling, Mastery Teaching, Positive Learning Environment, Corrections
#3 – Training – RM Lessons 1-15 = TYC 1 & 2  
#4 – Training – More pre-reading skills
#5 – Behavior Management
#6 – Training – RM Lessons 13–24    = TYC 2-6
#7 – Training – RM Lessons 25-52     = TYC 7-23
#8 – Training – RM Lessons 53-84     = TYC 24-41
#9 – Training – RM Lessons 85-104   = TYC 43-51
#10–Training – RM Lessons 105-124 = TYC 52-61
Video training segments for Reading Mastery II are #11 through #15. 
Reading Mastery III is one video segment: #16
Other Direct Instruction video resources are available from National Institute For Direct Instruction: https://www.nifdi.org/videos.html